Shipping
Get free shipping to the Gold Coast, Brisbane, Sydney, Melbourne, and Australia-wide... with speed, accuracy and love xo
Get free shipping Australia wide for orders over $99. Orders under $99 incur a flat rate charge to help with the cost of delivery. Orders placed before 2pm AEST on business days, leave our warehouse the same day!

Thanks to XO2's amazing warehouse team, our delivery speed and accuracy are leading the cleaning supply industry. XO2 customers expect and get fast efficient delivery of a range of cleaning chemicals, infection control, hand hygiene and washroom products throughout Australia. What's our secret?
An incredible team that cares
We stock what we sell
Cutting-edge warehouse management and logistics systems
Partnered with Australia's best and most reliable freight providers
XO2 is an Australian manufacturer partnered up with other Aussie manufacturers. We are in control of our supply chains, even during pandemics.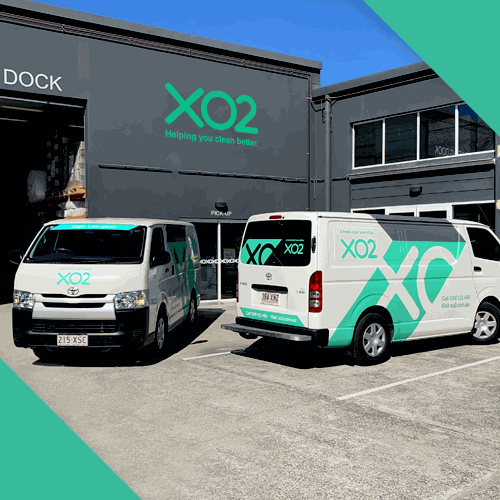 Please click on your state below for shipping details to your area.
Free Shipping, Australia wide, with speed and accuracy.
XO2 helps make the places where people work, stay, learn and heal awesome!
Easy to use website and great delivery time!! Will Definitely use again."
Leasa
---
Excellent service. I placed my order on the website and it was delivered same day."
Matt Maguire
---
I thoroughly recommend this company to deal with. I was determined to do business with an Australian owned company. They deliver what they promise with exceptional customer service. Thanks to everyone at XO2 and in particular Stef! I will definitely be dealing with you further in the future."
Mardi Lloyd
Commercial Cleaning Contractor, Phillip Island, Victoria

---
More information about XO2's delivery and shipping services.
Ain't no mountain high enough, ain't no valley low enough...

We realised a while ago that shipping was getting in the way of us and you. So... we started removing the problem! Now 98% of XO2 orders receive free shipping.
We are proud of our shipping policies and our team's commitment to fast free shipping. We are on a mission to get your order to you fast! We want you to say WOW!
We also like to buy a lot of things online, so we know the importance that shipping plays in today's world. The fact is, no one likes paying for shipping! That is why we have the best shipping policy in our industry, in Australia. We not only offer free shipping rules throughout all of Australia, but we are continually dropping our minimum order amounts to make them easier for you to meet. This is only possible because of you and the support and subsequent growth we are experiencing. The shipping companies are starting to respect us with lower rates and better offers. We simply pass these on to you as part of our partnership with you :)
We want you to know that we DO NOT make profits from shipping and we DO NOT inflate our prices to cover shipping costs. There is no silly business going on with our shipping policies and there are no traps. Free is free, it is just part of how we show you how much we value your partnership.
For answers to frequently asked questions about our shipping services visit XO2's FAQ page.
Shipping times
Due to the enormous size of Australia, and the seasons that come and go, delivery times will vary. We love communication and so you will receive a notification when your order has been dispatched and you will receive tracking information so that you can track where your order is at and who is delivering it to you.
Considerations
• Weekends and public holidays don't count when it comes to expected delivery time frames.
• If you place your order by 2 pm AEST on a regular business day, we'll dispatch it the same day. If you order after 2 pm AEST, there is a possibility that it won't get dispatched until the next business day. The time starts ticking for our shipping partners as soon as we dispatch!
• Shipping times and our 2 pm commitment is based on the products you require to be in stock. But that is cool because we only offer products that we can keep in stock. WE HATE BACKORDERS! In the unlikely event that an item is out of stock, we will move heaven and earth to get it to you asap, or if you need it now, we should be able to offer you a substitute.
Order status and tracking
You can check the status of your order and track any dispatched orders from your My Account page when logged in. You will also get an email with a tracking link when your order has been dispatched.
Dangerous goods delieveries
At XO2, we value integrity and honesty. So we declare dangerous goods as they should be and provide our shipping partners with the necessary paperwork. We just want you to receive your order safely. We also want to keep the roads, depots, vehicles and drivers safe too. Dangerous Goods items consist of aerosols, solvents, alcohols, oils, concentrated acids and alkalines.
Depending on the situation, we may split Dangerous Good/s items off the original consignment and send them separately. This is to get the majority of your order to you faster, as DG carriers are slower. It will not affect our picking, packing and dispatch times though.