When you are working with or caring for children, and needing to provide that essential hand sanitiser for school, choosing the right product is an important decision. Alcohol-free hand sanitiser is a perfect solution for kid-friendly and bacteria-killing hygiene. Its advanced formulation is PH-balanced, contains natural emollients and non-irritant moisturiser and kills 99.999% of germs, but even most ideal is what alcohol-free hand sanitiser doesn't contain.
Is Alcohol-Free Hand Sanitiser Safer?
Zero alcohol means no skin or eye irritation for the kids and ensures a sensitive high-usage hand sanitiser that passes dermatological tests. It means no dangerous or flammable products around curious children, and safer and longer storage life. Moreover, as a product not dependent on alcohol manufacturers, alcohol-free hand sanitiser is reassuringly panic-buying and pandemic-proof – large quantities can be supplied quickly, and with touch-free dispensers, hand-sanitising stations and personal pump packs all available, your school and your kids are going to be safe and secure.
Plus, there no triclosan, fragrance, colour or carcinogens, which means alcohol-free hand-sanitiser ensure safe, clean and hygienic hands for all children, families, classes, educators and members of the school community.
Buying Australian-Made Hand Sanitiser
Buying Australian-made products is always our first preference for supporting our favourite local businesses, and helping boost the local economy. But it's satisfying to consider the advantages do not stop there, because buying your zero alcohol hand sanitiser and dispensers locally allows for even quicker shipping on those bulk orders and refills for important faculties including schools, workplaces and medical clinics.
In that case, you'll need a full range of Australian-made hand-hygiene products available, with everything from sanitising foam, gel and liquid spray, to cleaning wipes, refills and safety signage on how to keep your hands safely germ-free. Plus for all of us who are wanting to improve our workplace washrooms and school classrooms with hands-free products, being able to choose from a wide variety of sanitising dispensers is – frankly – indispensable. From touch-free sanitiser stands, stations and wall dispensers to the hands-free paper-towel dispensers, air fresheners and sanitary bins available, you have peace of mind that the hand hygiene in your facility is safely in hand.
What Are The Best No Alcohol Hand Sanitisers For My Facility?
1. The Bodyguard Zero – Touch-Free Alcohol-Free Hand Sanitiser
The best way to get set up with the ideal Australian-made and alcohol-free hand-sanitiser products for your school or workplace is with a whole package deal that will be ruthless on nasty germs and bacteria, yet kind to your hands and your budget. XO2's The Bodyguard Zero Starter Kit has zero alcohol, but everything else you need to establish touch-free hand-sanitising in your faculty washrooms and classrooms.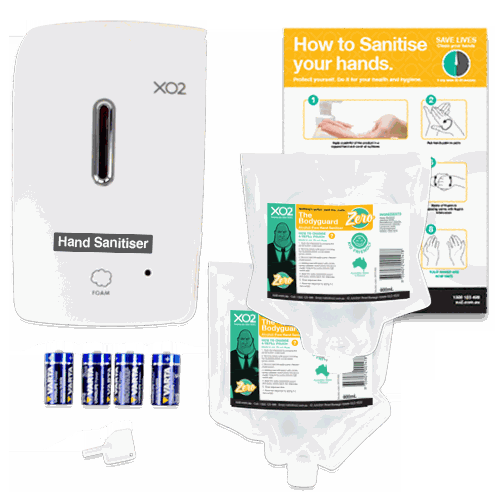 The Bodyguard Zero foaming hand-sanitiser puts up a tough exterior in protecting and guarding our hands against germs and dryness, while being alcohol-free on the inside means this hygiene product is also kid-friendly in schools, pet-friendly in vet clinics, and moisturising and conditioning for those with sensitive skin. 
Speaking of safe and reassuring, this starter kit includes a wall-mounted touch-free dispenser to keep germy hands off pump-operated units, and your sanitiser station where you want it – stationary, accessible, and secure. Plus, there's nothing worse than sanitising stands that collect those dangerous puddles on the floor beneath them, which is why this Bodyguard Zero dispenser comes with a bonus drip tray. Health and safety concerns averted, as rushing students or elderly residents are protected from slips and falls, and shopping centres or public places are always enjoyable outings rather than less-pleasurable kinds of trips.
Complete with batteries, two sanitiser refills, and hand-hygiene signage, The Bodyguard Zero Start Kit from XO2 ticks all the boxes for an alcohol-free hand-sanitiser product package to improve your faculty washroom - but how what about for outdoor installation, like entranceways, public parks or outdoor entertainment or sporting event locations? There are even more options for finding the perfect and cost-effective alcohol-free hand sanitiser for your needs and environment.
2. Shields Up Zero – Alcohol-Free Hand Sanitiser
Exposure to wet areas is always an outdoor possibility with Australia's changeable weather, and being able to wet-clean a sanitiser dispenser may be a particular need with outdoor wear-and-tear, or maybe even with grubby toddler hands in childcare. Moreover, not having to worry about batteries and electricity can be an especial relief in potentially damp environments, with inquisitive kids around, or with a busy workplace where battery changes are an extra hassle.
The Shields Up Zero Starter Kit is the ideal choice under these conditions. Perhaps you also just have a personal preference for spray sanitiser over foam, or maybe when working in the food industry, cafes or food courts, fast-drying as well as non-hazardous and food-safe is of extra importance to you. With two sanitiser refills that each gives you up to 2167 uses in this starter kit, and no batteries in its manual dispenser, maintenance is a breeze and you can rest easy with this economical XO2 hand-hygiene package.
3. iSanitise Zero Hand Sanitiser – Alcohol-Free Foaming Hand Sanitiser (Available in a foaming liquid or pre-moistened wipe)
For hand-sanitising on the go, iSanitise Zero hand sanitiser boasts all the same germ-killing and skin-caring as our previous favourite alcohol-free products and can also be used in bulk-fill wall-mount dispensers, but this hand-hygiene option can be kept on hand. Portable personal dispenser bottles mean you can stay safe and secure from germs wherever you need to be, and guarantees you always have access to zero-alcohol and kid-friendly sanitiser which also moisturises and conditions sensitive hands.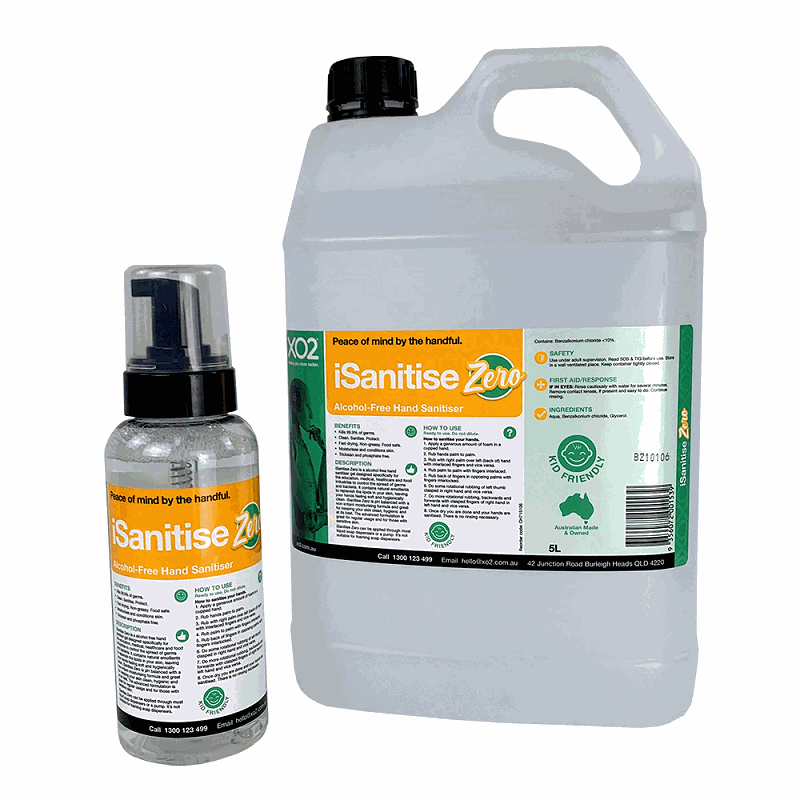 If only sanitising cleaning wipes could be as effective on germs and yet gentle on our skin as this, when we're wiping over contaminated surfaces or cleaning up after children, pets, colleagues, customers or clients. Luckily, we have the product for you, with our iSanitise Wipes Starter Kit. Australian-made, food-safe, biodegradable, cruelty-free and of course, alcohol-free, it's such a relief to know with confidence that these sanitising wipes are safe for us and the environment. Meanwhile, the wall-mounted well-stocked dispenser that allows for easy and convenient accessibility is also durable and lockable which also keeps it safe for school, child-care and medical centres, and aged-care facilities.
Improve hand hygiene in your workplace with alcohol-free hand sanitisers today
Improving the hygiene in our workplaces, and keeping our students, staff, clients and those we care for healthy and safe is constantly important to us, so both talking to the experts in cleaning and sanitising and finding the perfect products for our own faculty needs are vital. Family and Australian-owned cleaning and hygiene company XO2 is all about ensuring your school, workplace or local business is equipped with the best Australian-made sanitising products. 
XO2 design, manufacture & deliver their full cleaning and hygiene product range for education facilities, medical centres, the food industry, aged care, and more. We're sure to have exactly what you need, and are only too happy to help. Get in touch to talk to us about our supplies and hear more about their products and packages. 


Related articles:
- How To Choose A Hand Sanitiser & Dispenser For Public Areas & Workplaces
- Hand Hygiene Saves Lives. The Training Guide.
- WARNING - Is Triclosan In The Hand Sanitisers & Hand Soaps You Use?
- If It's Not Touch Free Do A Bush Wee. And Don't Wash Your Hands... Sometimes!