Choosing the wrong hand sanitiser and dispenser for your facility can do more harm than good. 
All hand sanitisers are not created equal and the method of dispensing really matters too.
Having a hand sanitiser available is a good decision and is part of a facilities infection control program. We know good hand hygiene saves lives, right?! Unfortunately, what has been lost during the recent COVID-19 pandemic are some of the basic principles of hand hygiene. And now what we are dealing with, is a whole new health epidemic called dermatitis with increased germ cross contaminations due to unhygienic dispensing systems.
The following 3 steps will help you make the right hand sanitiser choice for your facility, school, shopping centre, workplace or public area.
Step 1. Choose Alcohol-Based or Zero-Alcohol Hand Sanitiser
In recent times alcohol-based hand sanitiser has been promoted as the gold standard. The truth is, there are alternatives.
In fairness to organisations like the World Health Organisation (WHO), they need to give advice that everyone can follow and recommend raw materials that are easily available in most parts of the world. This is especially the case in an emergency situation and supply chain issue.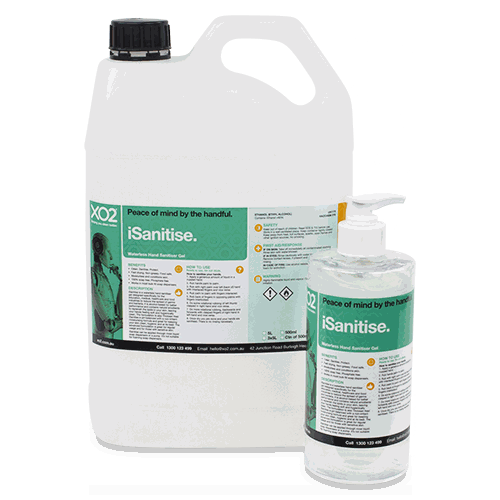 a. The pros and cons of alcohol-based hand sanitisers
Pros
- Trusted (even though many hand sanitisers do not contain the level of alcohol stated.)
- Widely available.
- Most 70% alcohol hand sanitisers kill 99.9% of germs.
Cons
- Dangerous for children: Dangerous when kids rub their eyes after use. Ingestion can cause death (ingestion is also a major concern in 'at risk' communities.)
- Skin irritation: Up to 80% of people experience irritation from hand sanitiser.
- Classed as dangerous goods and flammable.
- Unsafe to store.
- Limited shelf life.
- Does not kill all types of moulds.
- Can become contaminated in a bulk-fill dispenser. Use a sealed refill or clean and disinfect the tank before each top-up.
- Overseas supply dependence of up to 50% of all alcohol-based hand sanitisers sold in Australia.
- Difficulty scaling production up (or down) in the event of an emergency.
- Difficulty in transporting sufficient quantities to remote emergency stations (eg. temporary hospitals deployed by ADF.)
b. The pros and cons of zero-alcohol hand sanitisers
Pros
- Kid-friendly.
- Some, like XO2's Zero range, kill 99.999% of germs.
- Some, like XO2's Zero range, pass dermatological testing (alcohol-based hand sanitisers do not pass this test.)
- Some, like XO2's Zero range, are non-hazardous. No GHS irritant pictograms. No or little skin irritation or risk of danger to eyes (in the case of ingestion the outcomes are a lot less severe.)
- Not classed as dangerous goods for transport or storage in a workplace.
- Not flammable.
- Cheaper to transport.
- Longer shelf life.
- Better hand hygiene compliance due to higher acceptance and more frequent usage by users.
- Can be shipped in a concentrated form in the case of an emergency (eg. remote emergency hospitals.)
Cons
- Not widely available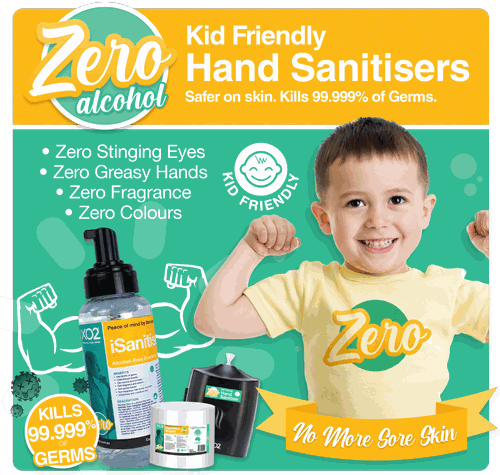 Conclusion - What did you choose?
At XO2, we manufacture both alcohol-based and alcohol-free hand sanitisers. We believe there is a time and place for both.
Our recommendation is that if any children will be using hand sanitiser, strongly consider the zero alcohol option. Eye, skin and ingestion issues from children using alcohol-based hand sanitisers have significantly risen. A zero-alcohol hand sanitiser solves those problems while still sanitising hands.
So if you're a school, child care centre, shopping centre or facility where children sanitise their hands consider the alcohol-free hand sanitiser options available.

Step 2. Choose A Manual-Push Or Touch-Free Dispenser (Or Go For A Wipe Dispenser)
The 4th pillar in XO2's Hygiene & Disease Prevention Program is touchpoint elimination. This is all about removing, wherever possible, things that people touch. Touchpoints can include door handles, light switches and yes, push-button washroom dispensers.
We remove touchpoints to create safer and more hygienic spaces by automation eg. automatic doors. XO2® recommends wherever possible using a touch-free automatic hand sanitiser dispenser with a hygienically sealed refill pod for the highest standard of hygiene.
a. Touch-free dispensers for hand sanitiser (Recommended)
So what are the good and bad of touch-free automatic hand sanitiser dispensers...
Pros
+ Touch-free hygiene. No germy button!
+ People love touch-free and are happy to use the dispenser more often.
Cons
- Dispenser is more expensive.
- Batteries are required (XO2's automatic dispenser batteries last up to 2 years or 55,000 uses.)
- Not suitable in wet areas like showers and food manufacturing areas.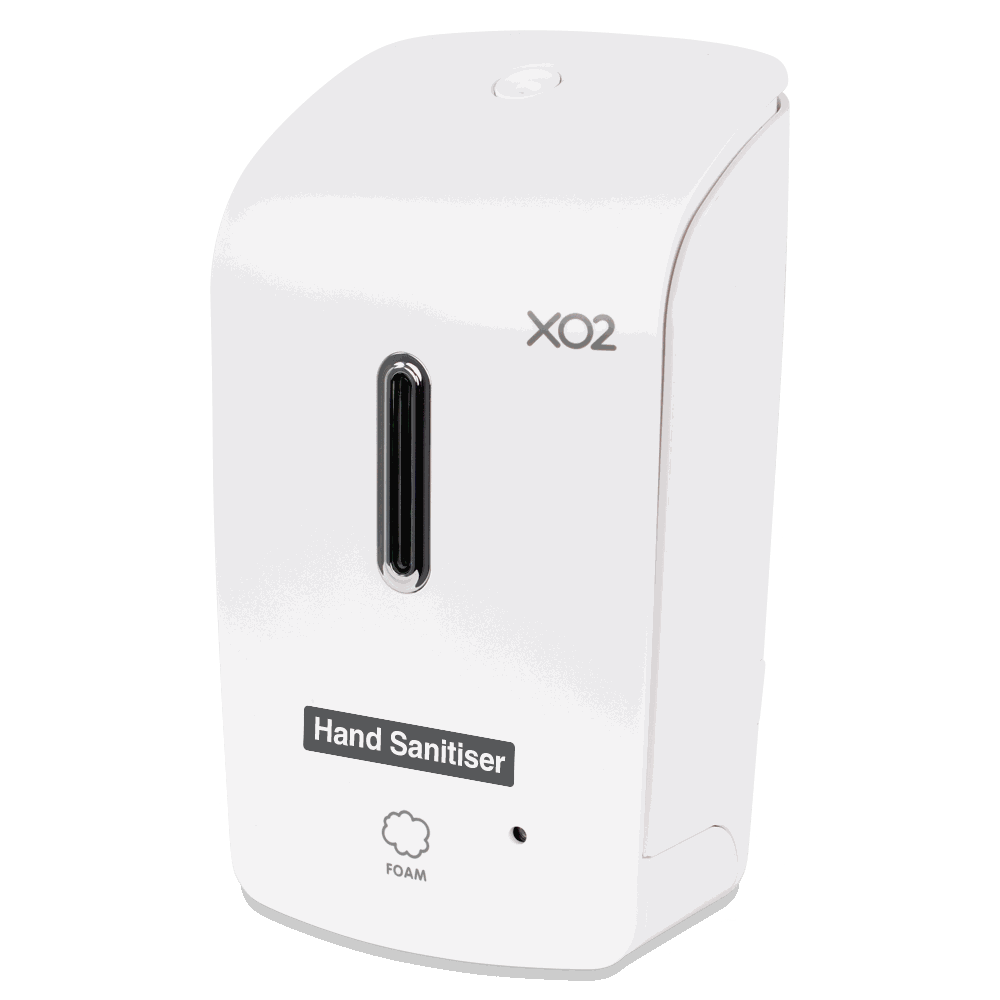 b. Manual-push button dispensers for hand sanitiser
And what are the good and bad of manual push button hand sanitiser dispensers...
Pros
+ Dispenser is cheaper.
+ No batteries are required.
+ Suitable in wet areas like showers and food manufacturing where electronic automatic dispensers can't be used.

Cons
- High-risk unhygienic touchpoint button (this button is often germier than a toilet seat)
- Many people won't sanitise their hands because they don't want to touch the dispenser.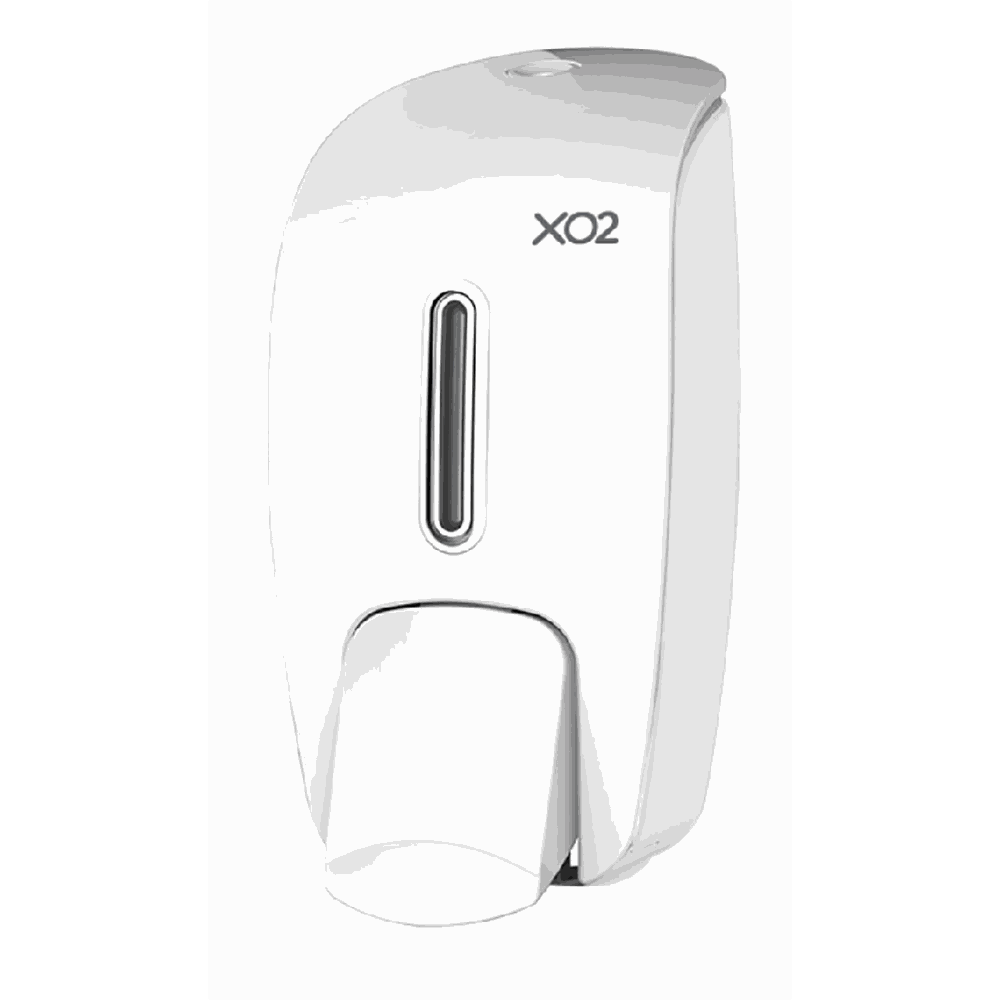 "Yeah, but a manual push button dispenser is fine because I'm pushing the button before I sanitise my hands right?!
Very few people perfectly sanitise their hands. That's why touching a germ and/or virus-covered button that hundreds of other people have touched is not a good idea at any time.
You might be touching it before you sanitise your hands but the likelihood of you killing everything is low given the hygiene levels of these buttons are very poor and they are rarely disinfected correctly or ever.
In many instances, you are probably better off not touching the dispenser button at all and taking your chances with what is already on your hands.
c. Wipe dispenser for hand sanitiser
Here are some pros and cons of pre-moistened antibacterial hand sanitiser wipe dispensers...
Pros
+ Touch-free hygiene. No germy button!
+ Best with alcohol-free hand sanitiser (alcohol-based wipes tend to dry out fast.)
+ Dispenser is cheaper.
+ No batteries are required.
+ Great user experience.
+ Kid friendly: Brilliant for schools.
Cons
- Used wipes need to be disposed of.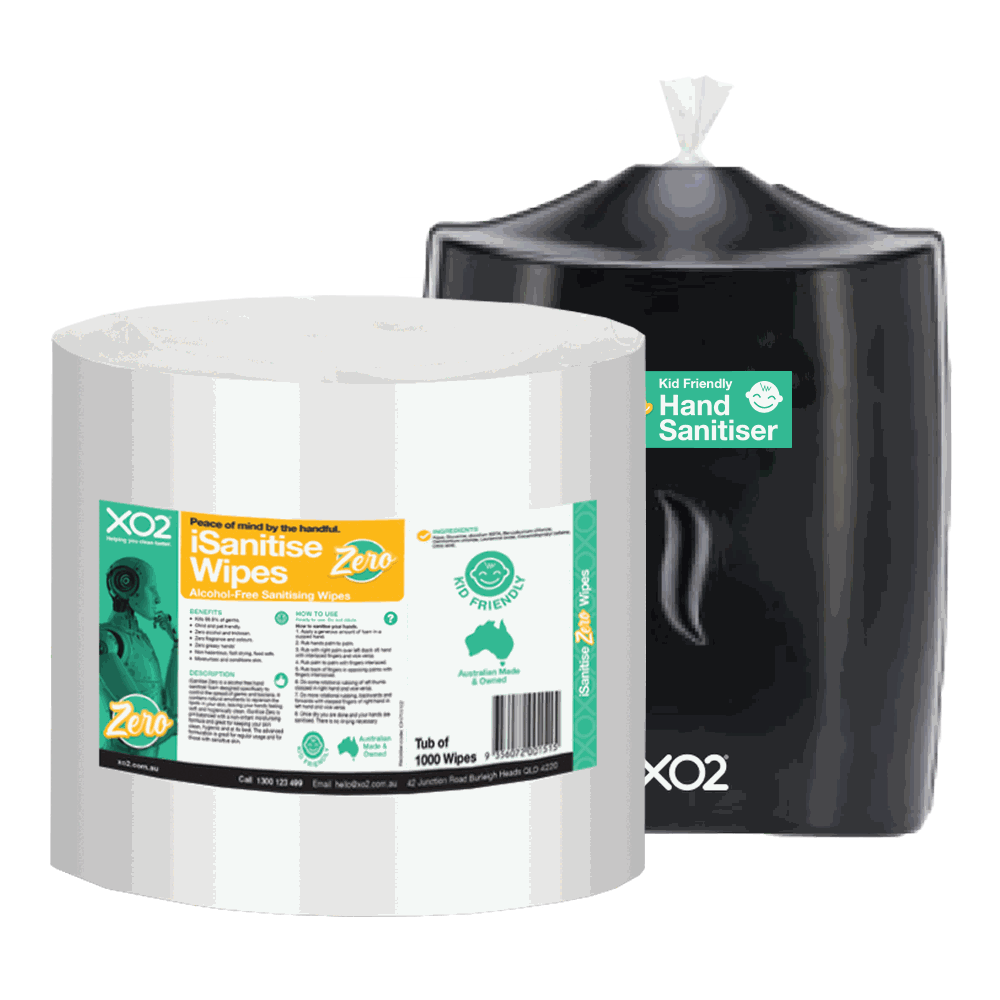 Before you choose a dispenser, also consider if you want it wall mounted, on a tabletop or freestanding on a floor stand?


Conclusion
Go for touch-free hand sanitiser dispensers every time unless you need a dispenser in environments such as wet or outdoor areas. This might include showers and food manufacturing areas where automatic electronic dispensers are not suitable because they are not best for being hosed down, rained on or getting really wet.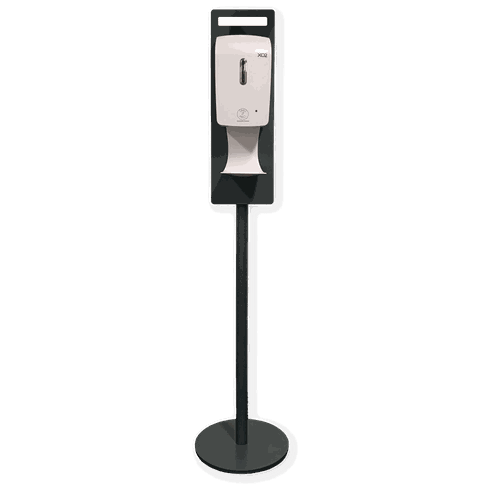 Step 3. Bulk Fill Tank Or Hygienically Sealed Refills
At XO2®, we recommend wherever possible using a touch-free automatic hand sanitiser dispenser with a hygienically sealed refill pod for the highest standard of hygiene. Yes, at XO2 we also supply the other type of dispenser where you can refill an internal tank with bulk hand sanitiser liquid but DON'T BUY THEM!
a. Bulk-fill or refillable dispenser tanks (DON'T USE THEM... PLEASE!)
Pros
+ Lower per litre cost of refill liquid. (end-use cost is higher)

Cons
- High contamination risk (1 in 4 tanks are contaminated.)
- Require cleaning, disinfection and air drying each time you 'top up' the dispenser.
- High exposure risk to 'toilet plume' (AKA poo, wee, sweat and saliva particles floating through the air.)
- Time-consuming and often messy task.
- High labour cost for refilling properly.


b. Hygienically sealed refill pods for hand sanitiser dispensers
Pros
+ Hygienic refills with no contamination risk.
+ No tank cleaning or disinfection is required.
+ Fast refilling and lower labour costs.
+ No mess.
+ Often lower usage per actuation (XO2's automatic dispenser only uses 0.3ml per actuation vs 1-3ml on some other dispensers.)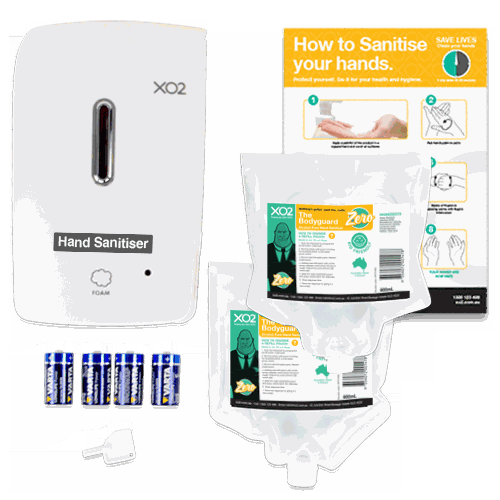 If you've followed the 3 steps above, you'll have a very good idea of what type of hand sanitiser dispenser solution will work best for you. And if you need any further assistance please get in touch with our team here or call us on 1300 123 499.
Have a great day.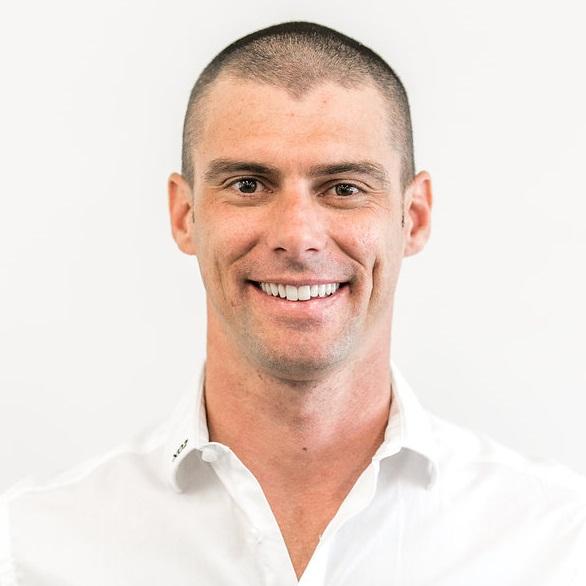 David Blamire, CEO at XO2
David is one of Australia's leading cleaning industry innovators. He's spent his entire working life solving cleaning challenges others thought were impossible. He's best known for his product creation and development skills along with a deep knowledge of business operations and all things ERP. In his spare time, David's a keen fisherman and adventurer. And he doesn't mind if you call him Davo.
Get in touch with David at www.xo2.com.au. He works from XO2's national headquarters and manufacturing centre in Queensland, Australia.
Related articles:
- Hand Hygiene Saves Lives. The Training Guide.
- WARNING - Is Triclosan In The Hand Sanitisers & Hand Soaps You Use?
- If It's Not Touch Free Do A Bush Wee. And Don't Wash Your Hands... Sometimes!
- What is in Alcohol-Free Hand Sanitiser?