We all need a reminder every now and again about the safe handling of cleaning chemicals.

Things can get busy and we might sometimes break a rule here or there to save a few minutes. What we can often forget is the consequences of not taking care around cleaning chemicals and that includes safer eco-friendly cleaning products too. We also need to understand and believe that the benefits of good chemical handling outweigh the pain of poor chemical handling.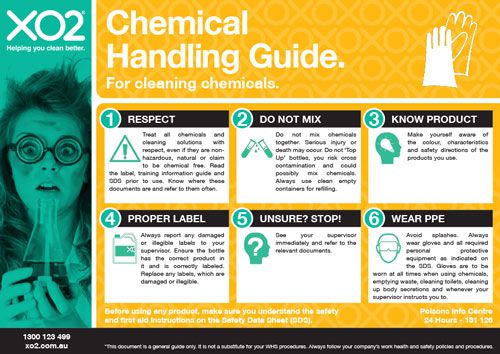 The 6 commandments for handling cleaning chemicals
1. Respect cleaning chemicals
Treat all chemicals and cleaning solutions with respect, even if they are non-hazardous, natural, eco-friendly or claim to be chemical-free. Read the label, training information guide and SDS prior to use. Know where these documents are and refer to them often.
2. Do not mix cleaning chemicals
Do not mix chemicals together. Serious injury or death may occur. Do not 'Top Up' bottles, you risk cross-contamination and could possibly mix chemicals. Always use clean empty containers for refilling.
3. Know your product
Make yourself aware of the colour, characteristics and safety directions of the products you use. Before using any product, make sure you understand the safety and first aid instructions on the Safety Data Sheet (SDS).
4. Proper cleaning chemical labels
Always report any damaged or illegible labels to your supervisor. Ensure the bottle has the correct product in it and is correctly labelled. Replace any labels, which are damaged or illegible.
5. Unsure? STOP!
See your supervisor immediately and refer to the relevant documents.

6. Wear personal protective equipment (PPE)
Avoid splashes. Always wear gloves and all required personal protective equipment as indicated on the SDS. Gloves are to be worn at all times when using chemicals, emptying waste, cleaning toilets, cleaning up body secretions and whenever your supervisor instructs you to.
This is a general guide only. It is not a substitute for your WHS procedures. Always follow your company's workplace health and safety policies and procedures.
Print out the XO2 chart above for free
XO2's chemical handling guide is a great chart to put on your wall. You can print out a copy for free of this cleaning chemical handling guide here. Or you can purchase a splash-resistant version of this chart online here.

Wack it up in your cleaner's room or anywhere and remind your colleagues about proper chemical handling and the consequences of not looking after yourself and those around you. You're worth it and we need you around :)

Stay safe.


Related articles
- 11 Essential Things For a Facility Cleaning Supplies Storeroom
- How To Set Up a Cleaning Chemical Register
- How To Quickly Calculate Cleaning Chemical Dilution Rates And Ratios
- 21 Cleaning Chemical Handling Guidelines For Your Workplace
- 17 Disinfectant Safety Tips Everyone Should Know
- Why Wearing Disposable Gloves Is Dangerous
- Colour Coding And Better Hygiene For The Cleaning Industry
- How To Prevent Injuries Caused by Slips Trips And Falls
- Everything You Need To Know About pH And Cleaning Chemicals
- The 5 Steps To Safety Success In Your Facility's Cleaning & Hygiene Department
- The 3 Best Places To Get Cleaning Chemical Safety Information