Here at XO2 we love kicking goals, and oh boy, we've kicked a big one this week!
The Therapeutic Goods Administration (TGA) in Australia have just listed XO2's most powerful weapon in the fight against COVID-19, golden staph, influenza and a whole host of other nasties you definitely don't want hanging around your facility surfaces. This has come at a time when infection control and surface disinfection of touch points is more important than ever.
Introducing ... da da daaaaa ... Disso®: Hospital Grade Disinfectant and Cleaner (and Disso® Wipes)
Now, these TGA folks aren't easy to impress. The TGA is the medicine and therapeutic regulatory agency of the Australian Government. They regulate the quality, supply and advertising of important healthcare and therapeutic products like medicines, vaccines, pathology devices, medical devices and blood products.

You can only imagine how busy the TGA has been with the COVID-19 pandemic. So thanks TGA for everything you are doing to protect Australians and thanks for listing Disso® surface disinfectant liquid and wipes as an effective COVID-19 killer.

Here's the TGA certificate. You can click on it if you need to print it out for your COVID Safe documentation.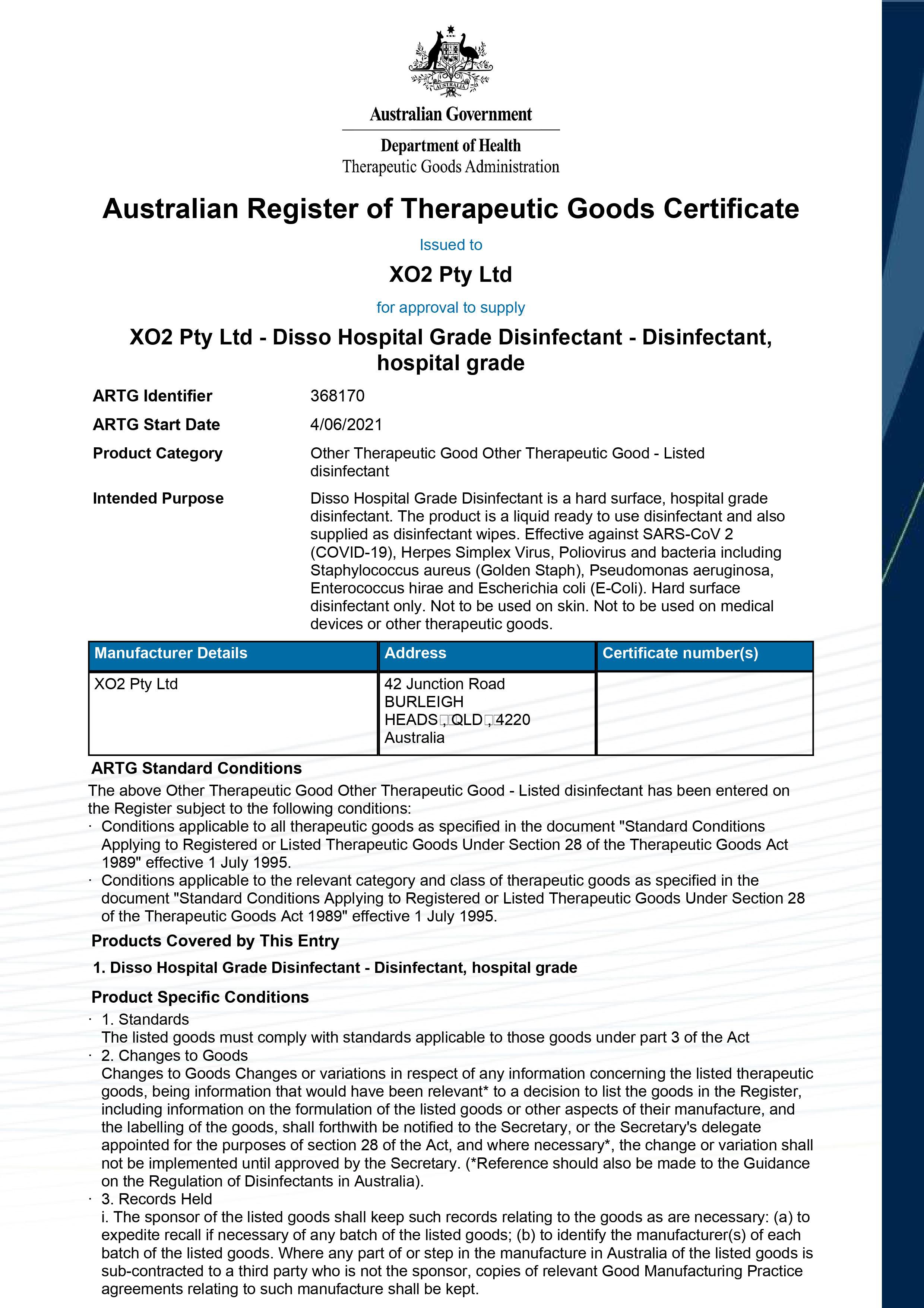 We've invested a huge amount of resources, lab time and testing into our DISSO® formula to find the safest and most effective way to surface-kill the COVID virus dead in just 3 minutes.
Disso® has been proven to kill 99.999% of germs too. That's a lot of 9's, and we're proud of it.
What makes XO2 Disso® so special?
● TGA listed (AUST L 368170) & hospital grade.
● 2 Year Shelf Life (Not 3-6 months like some).
● Kills COVID-19 in 3 minutes (not 10.) Kills 99.999% of germs.
● Passes EN13727 dirty conditions tests.
● Cleans & disinfects.
● Fragrance free. Odourless. Non-tainting.
● Use on hard surfaces & fabrics/carpets.
● Made in Queensland at XO2's headquarters.

We've made Disso® available in a bunch of handy ways, in disinfectant wipes, liquids, sprays and even dispensers. There's an easy way to get the Disso® surface disinfectant from the bottle to your surfaces, every time.
Disso®....a Clean You Can Trust.


Related articles:
- How To Disinfect Hard Surfaces
- Disinfectant Wipes vs Sprays: Which Is More Effective?
- How to Choose the Best Disinfectant for Cleaning Surfaces: A Comprehensive Guide
- 17 Disinfectant Safety Tips Everyone Should Know
- The Power of Disinfectant Wipes: Benefits You Need to Know
- Are Disinfectants Septic Safe?
- Is It Safe to Use Cleaning Chemicals & Disinfectants During Pregnancy?
- 12 Disinfectant Myths, Debunked By Experts
- How to Use a Disinfectant Fogger to Clean Your Facility, Workplace or Home